About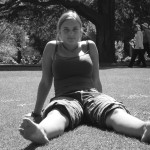 When I was eight, after a particularly inspiring history lesson, I had a vivid and life changing dream. In the dream I was a grown woman living in Victorian London. I was walking over a bridge when I heard crying. When I went to investigate under the bridge, there were several filthy children there – all boys, starving, skinny and orphaned. The moment I saw them, I was overcome with an intense need to be their mother. To clean them and feed them, to keep them safe and warm and above all, loved. To give them the childhood they deserved.
This dream returned to me many times over the course of my childhood, and I always knew I would someday tell this story. Though it has morphed into something quite different, it was the basis for my modern day novel The Promise, and the essence of that dream is still within the pages.
As a teenager I desperately wanted to write, but the words would never come. Many an afternoon was spent with a pen and a blank pad of paper, laying on my bed and doodling in the margins. But after several years I lost the dream to write and got on with living instead. Lo and behold, when I had some real life experiences under my belt, ideas began to materialise. The right words finally came to me.
When my first child came into the world, I finally found the floodgates had opened. I had something I was so passionate about I needed desperately to share it with others. My website Love Parenting was born, and not long after, my first non fiction book Trust me I'm a Toddler was published. Over the next few years parenting was the focus of my writing, but as time went by I began to feel a pull towards fiction. Characters began popping up in my head, stories I needed to tell, injustices that needed to be shared.
When my daughter was born, everything fell apart. After a peaceful unassisted birth, we soon discovered she was a very poorly baby. Intestinal failure, they said. Five long months were spent in hospital, where she had to endure surgery after surgery, test after test. We were finally sent home changed beyond recognition, beyond grateful to be leaving the hospital, but unable to rid ourselves of the memories. Those were the darkest days of my life.
It wasn't long after that, I began to write again. I hadn't intended to start a new work of fiction, but the words came nonetheless. I began to see the story unfolding and knew it was time for that childhood dream to be shared.
If you look through the list of my books, you'll notice they don't seem to have a place together. The genres skip from young adult fiction, parenting books, adult fiction and even a children's picture book. But the one thing they all have in common is the conviction of my beliefs. Love, bravery, kindness, especially for children and above all, freedom at all costs are the underlying messages in everything I write. I believe that people should do the right thing, even when it's terrifying to do. Even when society says differently. The masses are not always right.
If that sounds like your cup of tea, please sign up to my VIP reader list in the sidebar. I look forward to getting to know you.