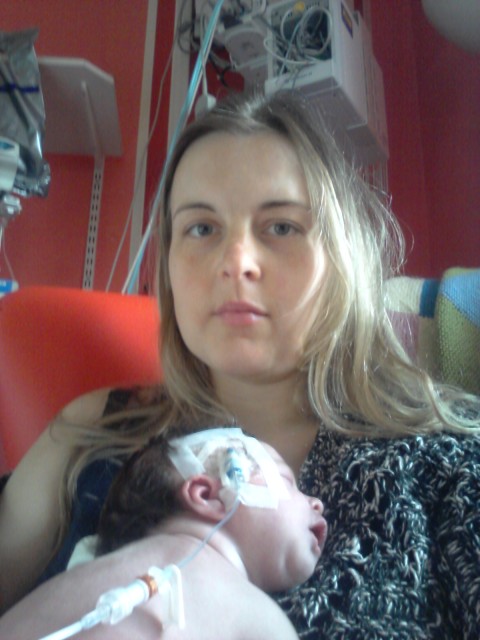 Have you ever been to a neonatal unit?
I have.
Prior to being transferred to the children's ward, we spent several gruelling weeks with my daughter in neonatal.
I felt like I had been transported to an alien world. Everyone kept saying how wonderful it was, how amazing the care was and I admit, the nurses were (mostly) kind and caring. But a wonderful place?
No.
I found it to be the most barbaric environment I have even been subjected to. A mother and her newborn are biologically programmed to need each other. Hormones are raging, the need to hold and touch your baby is all you can think of. And the last thing a sick baby needs is the stress of being separated from their mother. Kangaroo care works. Cuddles are truly healing.
Yet neonatal has no beds for a mother to stay with her baby, for them to be with each other when they most need to. I am blessed with the most wonderful husband, thankfully. Together, we did shifts through the night for the duration of her stay, each getting no more than a few hours sleep every night, all whilst caring for our son too.
I had just given birth.
I was exhausted.
My legs were swollen and I was still bleeding.
Yet at four in the morning, if I fell asleep in a chair beside my baby, the nurses would literally shout at me until I roused. For the first day, every nurse tried to discourage me from holding my daughter as it wasn't their policy.
They soon gave up.
During the hardest time of my life, a time where I needed to focus on my daughters health and well-being more than anything else, I found myself fighting petty battles and arguing nonsense policies. No, not every baby in the unit was strong enough to be held. That doesn't mean you should implement a blanket policy to discourage every parent from picking up their own child.
I was lucky by comparison. When it became apparent that we were literally falling apart to give our children round the clock care, when we we're in constant tears of utter debilitating exhaustion, the doctors finally made the decision to move us to the children's ward where I could at long last crawl into bed with my daughter and get some sleep.
There were plenty of parents there who didn't have that choice. Their stay was for months, not weeks. Many were single parents who didn't have the choice to tag-team. They had to walk away each and every night, leaving their heart in a box behind them.
A choice they should never have been forced to make.
I am grateful for the medical care my daughter received whilst in neonatal, of course I am. But the practice of separating a mother from her baby at this most vulnerable time is so outdated and harmful, both to the baby and the mother and it needs to be addressed. Every single scientific study in the past decade backs me up and it's time neonatal wards made some major changes so that future parents don't have to suffer this horror.
Sometimes, everyone around you is wrong. Sometimes you find yourself in an alien world, exhausted and barely coping, and yet you have to summon the strength to fight the biggest battle of your life.
I won't let you stop me being by my baby's side.
You can try to exhaust me mentally and physically.
You can deprive me of sleep, food and empathy.
You can beat me down, but I won't let you win.
Because I know I am right and you are wrong. I know that the fact that my baby needs me, matters more than your empty policies. I know I won't stop fighting for what is right in my heart.
Break me, throw rocks at me, starve me. It doesn't matter. My heart is made of something stronger than your weapons can destroy.